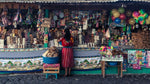 When it comes to brewing the perfect cuppa of coffee, Central America does have a few tricks up its sleeves. Guatemala coffee beans are considered to be one of the finest coffee beans in the world. 
Guatemala has been producing premium coffee since the 1860s and gradually become one of the largest coffee-producing nations.
So what makes Guatemalan coffee unique?
Strong, intense, moderately acidic and 100% delicious, if you are tired of your everyday coffee and want to try something more high quality and rich. This is a great start!
It is named as the Mecca for coffee farmers. The coffee here is farmed at the height of over 5000 feet, which plays a prominent role in giving it a robust and intense flavor. A mild subtropical climate and volcanic soil loaded with rich nutrients lay the foundation for the creation of one of the most delicious coffee beans on this planet.
Having so many options can be confusing, and they can overwhelm you. Therefore for you to find the perfect cup of Guatemalan goodness, we've combined a list of top coffee beans you can try and learn a little more about their coffee culture and history.
Guatemalan Coffee Regions
Guatemala is not a very big country, but it's home to a huge variety of climates. Many of these are suitable for coffee plantations. Two of the major regions Antigua and Huehuetenango, produce some of the finest single-origin coffee beans! These coffee beans provide you with just the high-end experience that you crave.
Antigua Coffee
Antigua, located in a valley, perched between 3 volcanoes, is the most popular coffee growing-region in Guatemala. The nutrient-rich soil provided by the neighboring volcano serves as a great advantage for coffee production.
The height boosts the development of the soil. The changes in weather come & go, but humidity persists. It's the culmination of all these factors that provide you with an extremely premium quality coffee. Smooth textured, luxurious & sophisticated beans that showcase Antigua's rich offerings in the most authentic form.
Huehuetenango Coffee
Guatemala has three non-volcanic regions, and out of all of them, the Huehuetenango region is the highest and driest region in the highlands of Western Guatemala. Perched at an altitude of more than 2,000 meters, this region receives the warmest winds from the neighboring mountains of the Mexican plains, which shield from the frosty winds.
Blessed with rich, nutrient-laden soil and the high altitude helps in growing some amazing coffee beans! Huehuetenango region, unlike the Antigua valley region, is fairly lesser guarded by the neighboring mountains.
The rainfall here is higher, high humidity and temperature provide a unique climate which brings you the unique Huehuetenango coffee beans! Lightly roasted coffee beans reveal the fruity brightness of Guatemalan coffee and the dark roast brings out rich cocoa and a tinge of bittersweet chocolate taste.
From Mari's home country, this awesome single origin coffee is farmed and sundried from the indigenous volcanic region of Huehuetenango in Guatemala. We roast these beans medium creating a balanced, sweet coffee with notes of rich dark chocolate, apples, and peach. You'll love it! As always, we fresh roast to order!
Other Guatemalan Coffee Regions
Mostly Antigua and Huehuetenango are the regions that are home to a wide variety of high-end coffee brands. However, there are a few more regions that need to be appreciated in the same way. For instance, San Marcos.
This region experiences temperature and rainfall towards the higher end more than any other coffee regions in this country. Despite these extremities, the coffee from this region is absolutely delicious and unique! A coffee that's light on both your taste buds and your stomach. Taste the sweetness in every sip and fall in love with the aroma, taste, and the lingering aftertaste!
Let's get ​brewin'
What makes Guatemala coffee so distinctive is its rich flavor, acidity, or the toffee-like sweetness.
Pour it!
To allow the acidity and the flavors of the coffee, pouring after brewing will yield amazing outcomes! The best coffee to pour over is the light roasted ones! A paper filter will help produce a clean cup full of great bright flavors. If you like your coffee with a subtle fruitiness and a floral tinge, you will enjoy this process!
French Press
For those who prefer a darker roasted coffee, or who simply want to highlight the body and the natural sweetness, a French press will be ideal.
This full brew method allows the coffee to sit in the water for some time as it extracts more sweetness. Don't brew the coffee for too long, or it'll turn out to be over-extracted bitter coffee.
Cold Brew
The ultimate combination of rich flavor, extra sweetness with medium acidity, which is present in most coffee beans from Guatemala. These factors make it a great option for the perfect Cold Brew. The process of steeping the coffee helps in extracting its sweetness and giving it just the intense flavor that you crave. Experience a hint of freshness in every sip.
Hope this helps you find a cup of coffee that matches your preferences. Will it be a creamy Antigua coffee? Rich Huehuetenango dark roast or a nutty San Marcos coffee? The choice is yours!
Till then, Disfruta Tu Cafe! (Enjoy your coffee!)